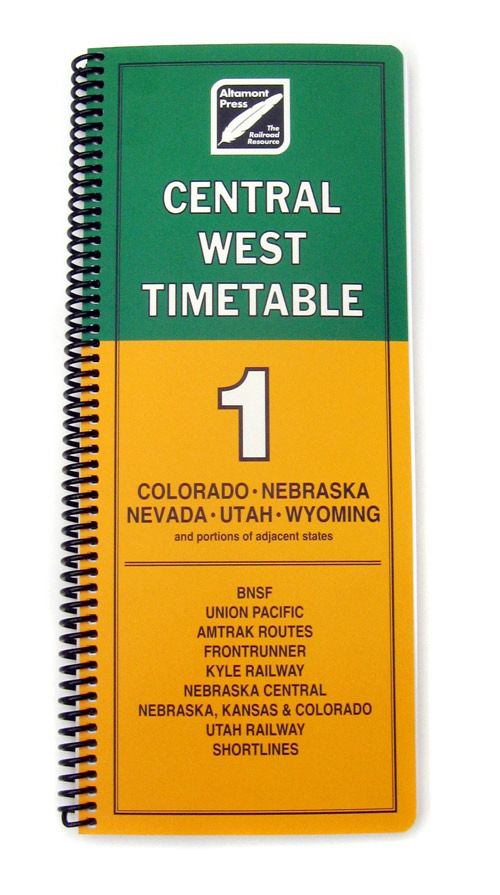 Central West Timetable No. 1
New release for April 2011
---
COLORADO • NEBRASKA • NEVADA • UTAH • WYOMING

(with portions of California, Idaho, Iowa, Kansas, Missouri, Montana, Oklahoma, South Dakota, & Texas)
---
New or improved features in this release:
10 new shortlines not covered in previous Altamont Press timetables. Shortline List

Common Line Names Index for easy reference. Example
Passenger Train Route Index. Example
Subdivisions labelled with state names and state line locations. Example
New maps of Cheyenne, Ogden, Pueblo and revised maps of Colorado, Nebraska, Nevada, Utah, Wyoming, northern Kansas; Powder River Basin, Laramie Mountains, Moffat Tunnel Subdivision, Joint Line between Denver and Pueblo, Denver, Salt Lake City, and Omaha-Council Bluffs.
Railroad Emergency Telephone Number list.
AAR Narrowband Channel Plans, for both Analog and Digital radio communications.
Completely revised Signal Aspects & Indications chart including Utah Transit Authority Frontrunner aspects.
Completely revised timetable profiles, radio frequency assignments, BNSF and UP train symbol lists, and locomotive rosters.
Additional information:
Replaces Altamont Press Rocky Mountain and Mountain Plains Region Timetables, last published in 2005 and 2001, respectively.
13,782 route miles. 41 railroads.
136 pages, spiral bound. ISBN 978-1-934455-40-1.
Ordering information:
$29.95
(California residents add 7.75% sales tax)
Shipping: $2.50 - USPS First Class Mail. Add $1.00 for each additional copy.
Order Online
Order by Mail
Send check or money order to: Altamont Press • PO Box 5264 • Fullerton, CA 92838.